Upcoming Adult Events
Senior Planet to Offer Free October Tech Classes
Senior Planet and the West Custer County Library are partnering to provide free technology courses to seniors who are sixty years or older. Upcoming Senior Planet workshops hosted in-person at the Library include:
Wednesday, October 13th at 1 p.m. "All Things Zoom"
Thursday, October 21st at 1 p.m. "How to Host a Zoom"
Thursday, October 28th at 1 p.m. "Telemedicine"
Seniors will: attend the workshops virtually, ask the instructor questions in real time, and need no electronic equipment.
Sign up for one, two, or all three classes by contacting Cathy McCarthy, the Adult Services Librarian at (719) 783-9138 or email cathy@westcusterlibrary.org to reserve a spot. Interested seniors can also connect digitally from the comfort of home for these classes; Cathy will provide access through a Zoom evite.
New Intermediate Spanish Conversational Group
The West Custer County Library is sponsoring an Intermediate Spanish Conversational Group.  The group's first meeting will take place September 7th, from 4:30 to 5:30 p.m. in the Library's Community Room. The purpose of the group is to provide an informal gathering for anyone who shares a common interest in practicing intermediate Spanish conversational skills, it is not intended to be a language lesson.  The first day is designed to be an organizational meeting to work on housekeeping details.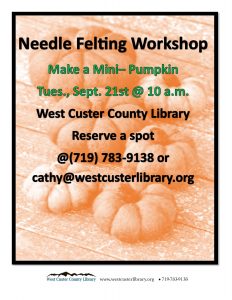 Needle Felting Workshop
Come join the fun at the West Custer County Library on Tuesday, September 21st at 10 a.m. and learn how to needle felt.  Local resident Teri Stover will demonstrate how to make a mini-pumpkin using the needle felt technique.  The popular hobby is begun by rolling up a small amount of wool and stabbing it with a fish-hook type needle till it forms a basic shape.  Wool is then added to the basic shape to transform it into whatever end product the crafter is making.  To reserve a space in the workshop call Cathy at (719) 783-9138 or email her at cathy@westcusterlibrary.org .
Online Retirement Class Series 
Successful retirement means making important decisions and planning ahead for financial, medical, legal, social and other retirement challenges. The PPACG Area Agency on Aging (AAA) and Ent Credit Union are partnering for their 7th consecutive year to offer this successful series.  The series provides the knowledge and tools that soon-to-be retirees need to get a "jump start" on their future. Adults 55-65 or those planning to retire in the next five years are encouraged to attend.
All classes will be held online and are free of charge. Please check our events and registration page for full details.  Registration is required; sign up online at www.ppacg.org/events.
September 13, 2021: Retire By Design 4:00 – 5:30 p.m. – How do you choose to age and ultimately retire? By default or by design? Because we live in an age-denying society, most of us are not inclined to anticipate the future challenges and opportunities encountered as we age and contemplate retirement. So, how can you increase the odds that you will experience a retirement that you love? First, understand the aging process (all facets). Second, identify traveling companions. Third, evaluate the environment. Age and Retire By Design—YOUR Design!
Jane W. Barton, MTS, MASM, CSA,
September 20, 2021: Estate Planning – Getting Your Affairs In Order 4:00 – 5:30 p.m. – Hear from noted estate planning attorney and probate expert Skip Morgan, former President of the El Paso County Probate Bar and retired JAG colonel, on estate planning tips that are simple and inexpensive.   Following a few easy steps can save your family from formal probate, thousands of dollars in unnecessary costs, and most important, contribute to family peace.
Presenter:  Chester (Skip) H. Morgan, II, Morgan Legal Offices, P.C.
September 27, 2021: Social Security 101 4:00 – 5:30 p.m. – As you begin to approach retirement, you may see a flood of information that may or may not be fully accurate.  Josh Weller, a Public Affairs Specialist with the Social Security Administration, will provide an educational webinar about benefit options.  The session will address Social Security questions including benefits calculations, benefit eligibility factors, application process, an overview of all the different benefits Social Security administers and more.
Presenter: Josh Weller, Public Affairs Specialist, Social Security Administration
October 4, 2021: Meaning and Purpose In Retirement 4:00 – 5:30 p.m. – Hooray!  You don't have to go to work!  So now what?  Just as you can benefit from financial planning for retirement, so you can benefit from planning for a sense of meaning and purpose. This workshop invites you to immerse yourself in an introspective workbook of your thoughts and how you can work to create the life you want in your retirement phase of life.
Presenter:  Sara Honn Qualls, Ph.D., ABPP, Kraemer Family Professor of Aging Studies and Professor of Psychology, Director, Gerontology Center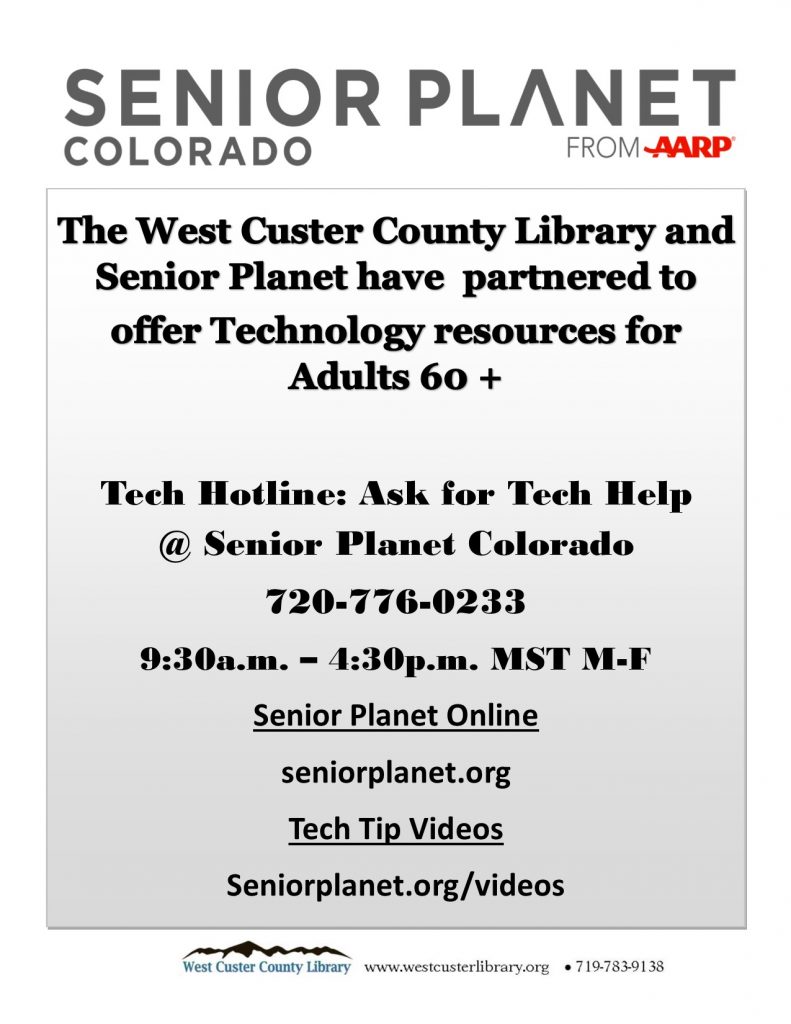 Senior Planet of Colorado Tech Help & Online Courses
Technology help is just a phone call away for Custer County senior residents who are 60 plus.  Senior Planet provides free tech phone assistance to seniors by  simply calling  (720) 776-0233 Monday through Friday 9:30 to 4:30 MST.  Checkout the seniorplanet.org website.  It offers many online learning and fitness opportunities that can be taken from the comfort of home.  From chair yoga to online banking, the morning stretch, Spanish Club, and more, seniors can connect digitally for new learning opportunities.
Refer questions to Cathy the Adult Services Librarian at (719) 783-9138 or email cathy@westcusterlibrary.org.
---
Recurring Events
Questions about recurring events can be directed to
(719) 783-9138 or info@westcusterlibrary.org
Book Club – Last Wednesday of the month at 11 am
Inter-agency  Meeting – Second Thursday of the Month at 11:15 am
Play to Learn – First Wednesday of the Month 10:00-11:00
Playgroup – Every Wednesday at 10:00
Camp Happiness – Every 1st Friday from 10:00-11:30
Lego Club – Every 3rd Wednesday from 4:15-5:15