Upcoming Adult Events

The Social Crafting Meet-Up Is Back
The West Custer County Library is resuming the social crafting monthly-meet up the last Tuesday of each month. The next meet up is Tuesday, April 27th, from ten a.m. till eleven thirty a.m.  The social crafting club is for amateurs and hobbyists of any skill level who may want to share current craft projects for advice or to show progress to fellow crafters.  Come socialize, while crafting with friends and neighbors to get projects completed. Please bring a project, grab a friend and join the meet up.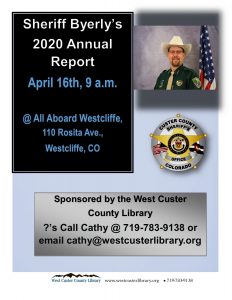 Sheriff Byerly's Annual Report
The West Custer Library is hosting Custer County Sheriff Shannon Byerly, on April 16th at 9 a.m. to deliver the 2020 Custer County Annual Report.  The presentation will be held at the All Aboard Facility at 110 Rosita Ave. in Westcliffe.  The Sheriff will update the community on the Sheriff Department's activities, crime statistics, and community safety.  Attendees will have an opportunity to ask questions following the presentation.  Byerly has served as the Custer County Sheriff since January of 2015.  The event is free and open to the public.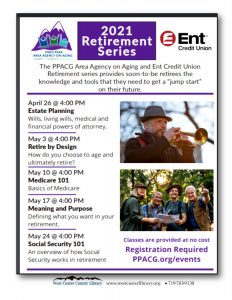 The AAA/Ent Retirement Series will be offered again in the fall as well as other AAA classes throughout the year.  Please check our events and registration page for full details.  Registration is required; sign up online at www.ppacg.org/events. All classes will be held online and are free of charge.
April 26, 2021: Estate Planning 4:00 – 5:30 p.m. — Getting your affairs in order can be a daunting task.  During this presentation, you will be guided to understand how four key estate planning tips can change your life.  You will learn how estate planning can be simple and inexpensive.  By following a few easy steps, you can save your family from formal probate, save thousands of dollars in unnecessary costs, and most important, contribute to family peace.
Presenter: Chester (Skip) H. Morgan, II, Morgan Legal Offices, P.C.
May 3, 2021: Retire by Design 4:00 – 5:30 p.m. — How do you choose to age and ultimately retire? By default, or by design? Because we live in an age-denying society, most of us are not inclined to anticipate the future challenges and opportunities encountered as we age and contemplate retirement.   So, how can you increase the odds that you will experience a retirement that you love?   Retire By Design—YOUR Design!
Presenter: Jane W. Barton, MTS, MASM, CSA, Cardinal, LLC
May 10, 2021: Medicare 101 4:00 – 5:30 p.m. — This presentation will provide an overview of all things 'Medicare', covering the basics of eligibility and enrolling in Medicare A, B and D, as well as the costs, benefits, and explanation of the differences between Medigap and Medicare Advantage Plans.
Presenter: Roma Costanza, Medicare Specialist/SHIP Coordinator, Area Agency on Aging
May 17, 2021: Meaning and Purpose In Retirement 4:00 – 5:30 p.m. — Hooray!  You don't have to go to work! So now what?  Just as you can benefit from financial planning for retirement, you can benefit from planning for a sense of meaning and purpose.  This session invites you to think about how you can create the life you want in your retirement phase of life.
Presenter: Sara Honn Qualls, Ph.D., ABPP, Kraemer Family Professor of Aging Studies and Professor of Psychology, Director, Gerontology Center
May 24, 2021: Social Security 101 4:00 – 5:30 p.m. — As you begin to approach retirement, you may see a flood of information that may or may not be fully accurate.  The session will address Social Security questions including benefits calculations, benefit eligibility factors, application process, an overview of all the different benefits Social Security administers and more.
Presenter:  Josh Weller, Public Affairs Specialist, Social Security Administration
Library Sponsors April Poetry Contest
The West Custer County Library is sponsoring its annual poetry contest beginning April 1st and ending April 30th.  April is National Poetry Month and poets of all ages are welcome to submit an original poem.  To participate in the contest pickup a poetry take-home kit at the Library beginning April 1st.  Take-home kits include:  an entry/release form, poetry resources, and poetry writing tips.   All completed work must be submitted to the Library by Friday, April 30th at 5:30 p.m.  Poetry contestants will be divided into three categories: adults, teens, and youth.  The suggested contest theme is Earth Day.  Submissions will be judged by the library staff; the three winners will be notified in early May.   A gift certificate will be awarded to one adult, one teenager, and one youth respectively
2021 Winter Adult Reading Program
The West Custer County Library is pleased to announce the 2021 Winter Adult Reading Program is in full swing.  The 2021 program theme is "Think outside the Box."  The Pandemic has caused us to rethink how to deliver a reading program safely and without in-person events.  The process is simple, just make a curbside appointment and a "Reading Program Grab and Go" packet will be delivered to your car.  Once a bingo row(s) is completed, make an appointment to claim your prize(s), and it will all be handled curbside.  Interested participants should call (719) 783-9138 or email info@westcusterlibrary.org to reserve an appointment time and pick up a packet.
Adult Digital Learning Opportunities
Get Started on Self-Guided Computer Learning
DigitalLearn.org is a collection of self-guided computer classes (see the library website online resources, computer help for additional resources).  Featured mini-modules this month are: online-scams and introduction to Facebook.  Each of these modules takes less than 20 minutes to complete click on a link below to get started learning.  Please call (719) 783-9138 for assistance with questions.
Online Scams: https://www.digitallearn.org/courses/online-scams
Intro to Facebook: https://www.digitallearn.org/courses/intro-to-facebook
Sunday Westcliffe Community Yoga Class
Grab your mat and join us on Sundays for a donation based yoga class held every Sunday from 2-3:30 pm at the West Custer County Library Community Room. The classes are led by Terri Rowenhorst and Judy DeHaven, both are certified yoga teachers (RYT200).  The two instructors have more than 20 years of experience respectively. Classes are sponsored by the Westcliffe Community Yoga Class and the West Custer County Library, donations collected benefit the West Custer County Library and partners.
Scrabble Group
The Scrabble Group meets on the 2nd and 4th Wednesday of the month at 2 pm in the West Custer County Library Community Room.  New Players of all levels are welcome to come play.  Please direct questions to Sue Pelletier at (720) 384-6228.
Chess Club
The Custer County Library Chess Club meets at the Library Community Room the 2nd and 4th Tuesday of the month at 5:30 p.m.  Whether you are new to the game, looking for a formidable opponent or seeking to refresh your chess skills the club welcomes players of all abilities. Teens are encouraged to drop in and enjoy the fun. Children 14 and under must be accompanied by a parent.
---
Recurring Events
Book Club – Last Wednesday of the month at 11 am
Inter-agency  Meeting – Second Thursday of the Month at 11:15 am
Scrabble Club – Second and Fourth Wednesdays, 2 – 5 pm
Chess Club – Second and Fourth Tuesdays 4:30 pm
Play to Learn – First Wednesday of the Month 10:00-11:00
Playgroup – Every Wednesday at 10:00
Camp Happiness – Every 4th Friday from 10:00-11:30