Adult Events & Online Learning Opportunities
DMV2GO Program Now in Custer County Monthly!
Sponsored by the Custer County Sheriff's Office and
The West Custer County Library
The DMV is providing an exciting, new program that aims to help Coloradans who do not have easy access to in-office driver license services by bringing the DMV2GO Program to the West Custer County Library the third Thursday of each month! The DMV2GO Program will be held at the West Custer County Library Community Room on Thursday, June 21st from 10 a.m. to 3 p.m. Who can use DMV2GO? Any Coloradan who needs a driver's license or id card services can utilize this program. The DMV2GO Program is part of the DMV's commitment to serve all Coloradans.
Provided Services: • First time: Colorado Driver License or ID card • Out-of-State Transfers • Renew: Driver License, Permit, Identification Card, • Issue New: Driver License, Permit, Identification Card • Motor Vehicle Records • Reinstatements • Colorado Roads and Community Safety Act services.
Important information:
No appointment is necessary
the mobile program can only accept credit card payments
the service for permits and reinstatements is limited
the written test is not available.  (The written test would need to be taken with a third party tester or a driver license office)
Customers have to upload their reinstatement documents to colorado.gov.  Once uploaded, it takes up to 72 hours for them to be processed and cleared off of the account.
Questions? Please call Bre Gasper at the Custer County Sheriff's Office at (719)-269-6517.
Adult Crafting 
Adult Crafting meets the 2nd and 4th Tuesday of the month from 10 a.m. to noon in the Library's Community Room.  Local crafters recommended meeting more frequently and extending the time allotted to work on personal projects.  Drop-by and enjoy the fellowship of local crafters .  Please remember to bring a project.
Virtual Author Talk
Something you may have an interest in: Last week's Virtual Author Talk hosted by the Water '22 Campaign, featuring The Water Knife author Paolo Bacigalupi talking with Brad Udall, Senior Water and Climate Research Scientist/Scholar, Colorado State University. The discussion is now available as an archive on YouTube: https://www.youtube.com/watch?v=63Y5KzAxb1E&feature=youtu.be.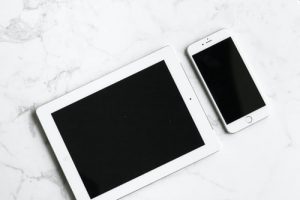 Tech Appointments @ the Library
Keeping up with technology can be challenging.  The West Custer County Library staff can help anyone: set up a new Phone or tablet, assist with online shopping, get oriented on a Mac, and organize files in Windows. Appointments are also available for anyone interested in learning how to scan, copy, or fax.  Please contact the library at 719-783-9138, or email info@westcusterlibrary.org to schedule a one-on-one thirty- minute appointment.   Please bring the device or laptop, passwords, and user names to the appointment.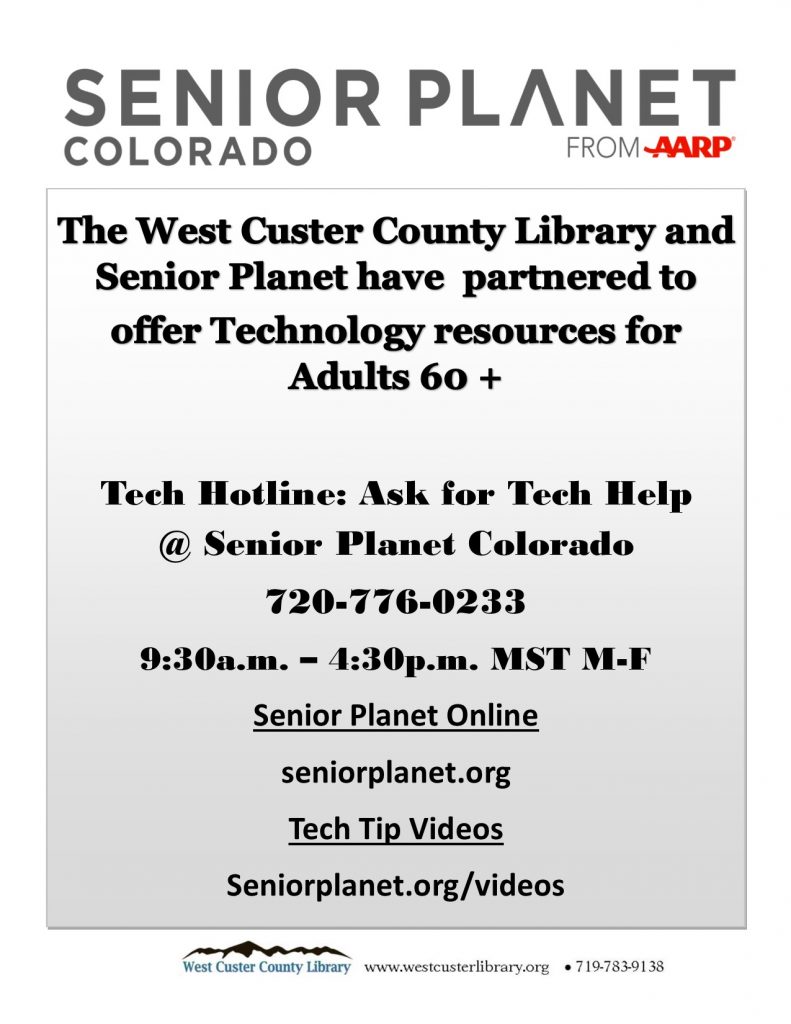 Senior Planet of Colorado Tech Help & Online Courses
Technology help is just a phone call away for Custer County senior residents who are 60 plus.  Senior Planet provides free tech phone assistance to seniors by  simply calling  (720) 776-0233 Monday through Friday 9:30 to 4:30 MST.  Checkout the seniorplanet.org website.  It offers many online learning and fitness opportunities that can be taken from the comfort of home.  From chair yoga to online banking, the morning stretch, Spanish Club, and more, seniors can connect digitally for new learning opportunities.
Please refer questions to Cathy the Adult Services Librarian at (719) 783-9138 or email cathy@westcusterlibrary.org.
---
Recurring Events
Questions about recurring events can be directed to
(719) 783-9138 or info@westcusterlibrary.org
Book Club – Last Wednesday of the month at 11 am
Inter-agency  Meeting – Second Thursday of the Month at 11:15 am
Play to Learn – First Wednesday of the Month 10:00-11:00
Playgroup – Every Wednesday at 10:00
Camp Happiness – Every 1st Friday from 10:00-11:30
Lego Club – Every 3rd Wednesday from 4:15-5:15
Teen/Tween Events – Every 3rd Friday from 10:30-11:45
Dungeons and Dragons – Every Friday from 12:00-5:00