Upcoming Adult Events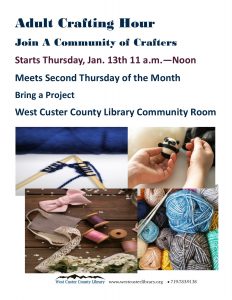 Adult Crafting Hour
Several local crafters have requested a crafting hour to work on personal projects in a group setting.  The first crafting hour begins Thursday, January 13th, from 11 a.m. to noon in the West Custer County Library's Community Room.  Whether it is needle felting, crocheting, knitting, or some other crafting project join with fellow crafters on the second Thursday of each month from 11 a.m. to noon. Crafters can simply drop-in and look forward to creating among fellow crafters.  Take advantage of this opportunity to ask for project advice, and please remember to bring a project.
2022 Winter Adult Reading Program is Here
The Library staff is excited to announce the 2022 Winter Adult Reading Program began today, Wednesday, January 12th at ten a.m. at the West Custer County Library. The 2021 program theme is "Blaze New Trails." . The community can look forward to an array of events such as: fly fishing, a soil workshop, a grand parenting class, charcoal art, leading a healthier lifestyle, and more; there is something for everyone.
"Reading Program Grab and Go" packets will be available at the Library front desk or a curbside appointment can be scheduled and a packet will be delivered to your car.  Participants should call (719) 783-9138 or email info@westcusterlibrary.org to reserve an appointment.
For more information on this free library program please contact Cathy at (719) 783-9138 or email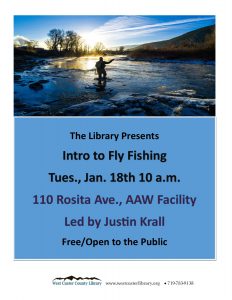 Library Offers Introduction to Fly Fishing
Local Colorado Parks and Wildlife Officer Justin Krall, will lead an Introduction to Fly Fishing on Tuesday, January 18th at 10 a.m. at the all Aboard Facility on 110 Rosita Ave., Westcliffe.  Justin's presentation will cover: an introduction to fly fishing, the equipment needed, the types of flies, how to get started, where to go fly fishing, and casting with a fly rod.  Justin really enjoys fly fishing, he says "it a great way to relax and enjoy the outdoors, especially in these times".
Library Offers Nutrition Workshop
A new year often begins with a resolution to set healthy goals.  Join ISSA certified nutrition coach, Jennifer Myers on Thursday, January 27th at ten a.m. at the All Aboard Westcliffe Facility at 110 Rosita Ave., Westcliffe.  Learn how nutrition affects your mental and physical health. The old saying is true "you are what you eat". Jennifer will discuss what foods have a negative effect on your body and which foods will help you feel your best and fight off illness and disease.
Health and fitness is Meyer's passion. After having several health scares and being 70 pounds overweight she took control of her health and lost the weight. She now helps others reach their health and weight-loss goals!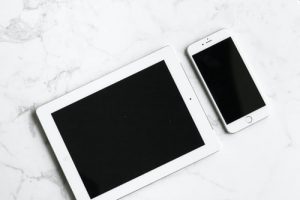 Tech Appointments @ the Library
Keeping up with technology can be challenging.  The West Custer County Library staff can help anyone: set up a new Phone or tablet, assist with online shopping, get oriented on a Mac, and organize files in Windows. Appointments are also available for anyone interested in learning how to scan, copy, or fax.  Please contact the library at 719-783-9138, or email info@westcusterlibrary,org to schedule a one-on-one thirty- minute appointment.  Tech appointments are available on Wednesdays between 11 a.m. and 4 p.m.   Please bring the device or laptop, passwords, and user names to the appointment.  Masks are required for tech appointments.
Intermediate Spanish Conversational Group
The West Custer County Library is sponsoring an Intermediate Spanish Conversational Group.  The group meets each Thursday from 4:30 to 5:30 p.m. in the Library's Community Room.  No meeting takes place on the second Thursday of the month. The purpose of the group is to provide an informal gathering for anyone who shares a common interest in practicing intermediate Spanish conversational skills.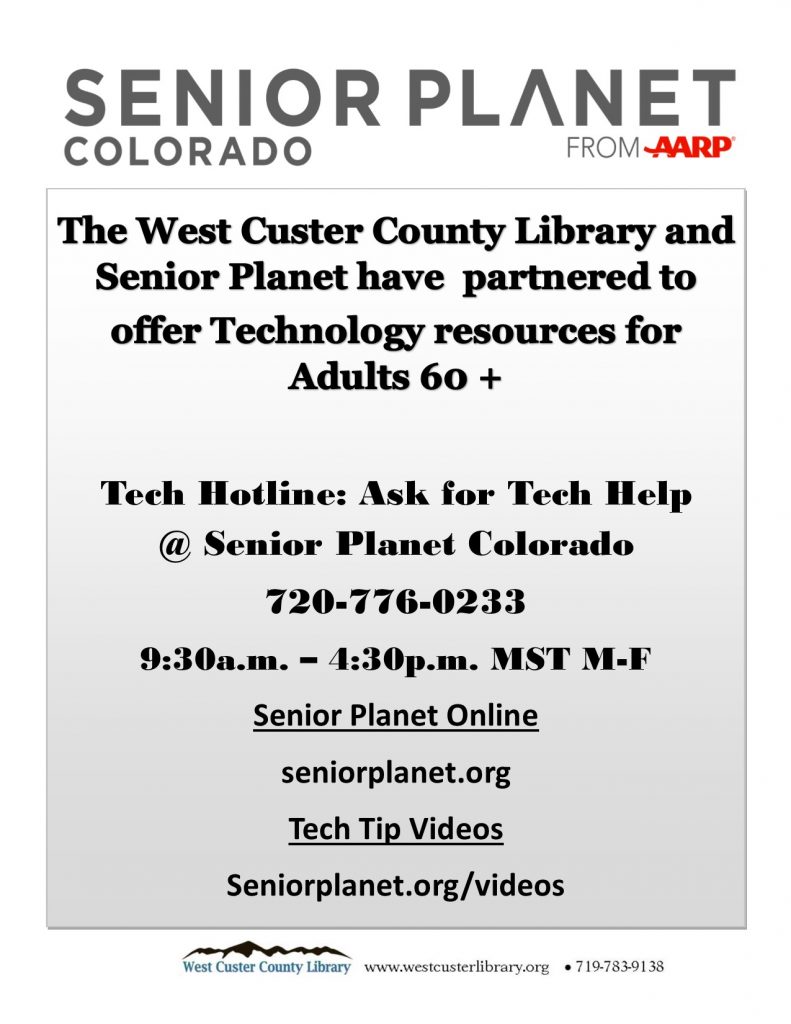 Senior Planet of Colorado Tech Help & Online Courses
Technology help is just a phone call away for Custer County senior residents who are 60 plus.  Senior Planet provides free tech phone assistance to seniors by  simply calling  (720) 776-0233 Monday through Friday 9:30 to 4:30 MST.  Checkout the seniorplanet.org website.  It offers many online learning and fitness opportunities that can be taken from the comfort of home.  From chair yoga to online banking, the morning stretch, Spanish Club, and more, seniors can connect digitally for new learning opportunities.
Please refer questions to Cathy the Adult Services Librarian at (719) 783-9138 or email cathy@westcusterlibrary.org.
---
Recurring Events
Questions about recurring events can be directed to
(719) 783-9138 or info@westcusterlibrary.org
Book Club – Last Wednesday of the month at 11 am
Inter-agency  Meeting – Second Thursday of the Month at 11:15 am
Play to Learn – First Wednesday of the Month 10:00-11:00
Playgroup – Every Wednesday at 10:00
Camp Happiness – Every 1st Friday from 10:00-11:30
Lego Club – Every 3rd Wednesday from 4:15-5:15
Teen/Tween Events – Every 3rd Friday from 10:30-11:45
Dungeons and Dragons – Every Friday from 12:00-5:00