Tech Appointments @ the Library
Keeping up with technology can be challenging.  The West Custer County Library staff can help anyone: set up a new phone or tablet, assist with online shopping, get oriented on a Mac, and organize files in Windows. Appointments are also available for anyone interested in learning how to scan, copy, or fax.  Please contact the library at 719-783-9138, or email info@westcusterlibrary,org to schedule a one-on-one thirty- minute appointment.  Tech appointments are available on Wednesdays between 11 a.m. and 4 p.m.   Please bring the device or laptop, passwords, and user names to the appointment.  Masks are required for tech appointments.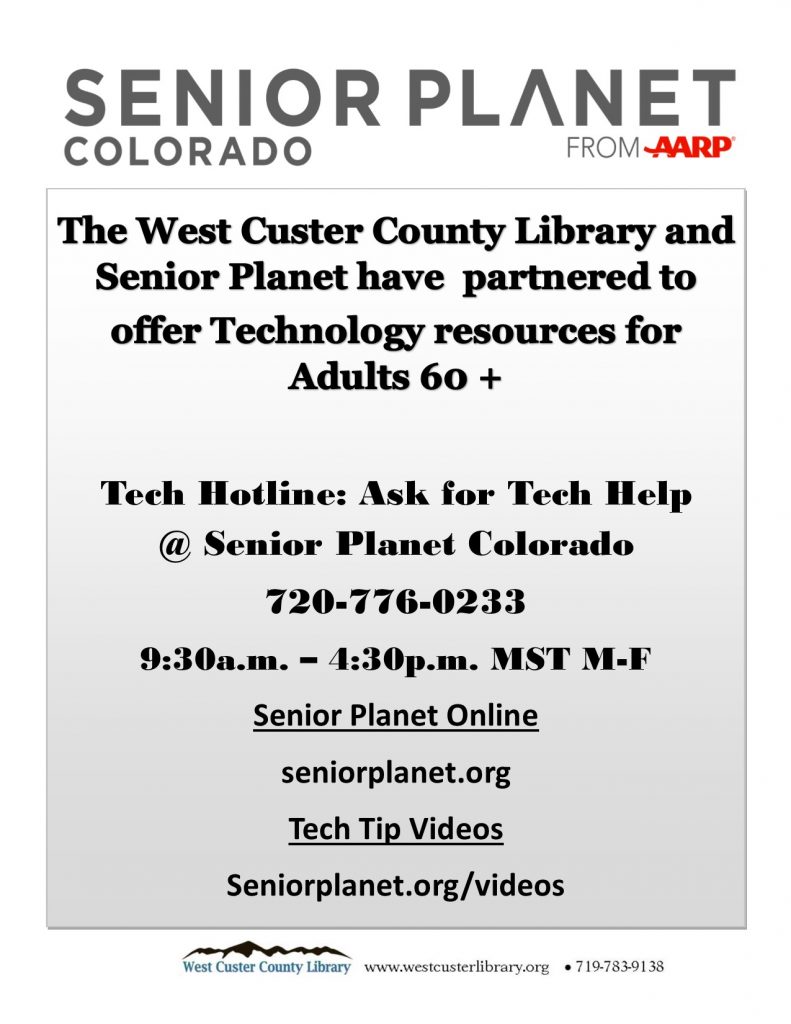 Senior Planet of Colorado Tech Help & Online Courses
Free technology help is just a phone call away for Custer County senior residents. Senior Planet of Colorado and the West Custer County Library have partnered to provide free technology assistance. Seniors who are sixty or older are eligible to call the Senior Planet Tech Hotline at (720) 776-0233, Monday through Friday, 9:30 to 4:30 MST.
The Emergency Broadband Benefit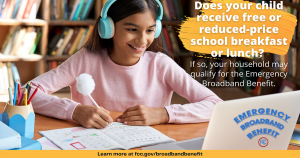 The Emergency Broadband Benefit is an FCC program to help families and households struggling to afford internet service during the COVID-19 pandemic. This new benefit will connect eligible households to jobs, critical healthcare services, virtual classrooms, and so much more.
About the Emergency Broadband Benefit
The Emergency Broadband Benefit will provide a discount of up to $50 per month towards broadband service for eligible households and up to $75 per month for households on qualifying Tribal lands. Eligible households can also receive a one-time discount of up to $100 to purchase a laptop, desktop computer, or tablet from participating providers if they contribute more than $10 and less than $50 toward the purchase price.
When Can I Sign Up for the Benefit?
As of May 12, 2021, eligible households will be able to enroll in the program to receive a monthly discount off the cost of broadband service from an approved provider. Eligible households can enroll through an approved provider or by visiting sort by GetEmergencyBroadband.org.