Computer help is available by appointment. Appointments are 45 minutes long and one-on-one. The library uses Windows 10 laptops and desktops, but you may bring in your own equipment. Appointments are free but you are required to have a learning goal (example: learn how to use Microsoft Word, setup and learn how to use email, how to get CloudLibrary on your iPad, etc.). To schedule a class, call the Director at 719-783-9138 ext 2.
Getting Started on Computers
The Emergency Broadband Benefit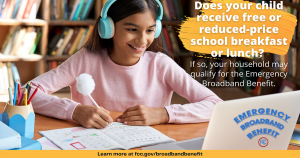 The Emergency Broadband Benefit is an FCC program to help families and households struggling to afford internet service during the COVID-19 pandemic. This new benefit will connect eligible households to jobs, critical healthcare services, virtual classrooms, and so much more.
About the Emergency Broadband Benefit
The Emergency Broadband Benefit will provide a discount of up to $50 per month towards broadband service for eligible households and up to $75 per month for households on qualifying Tribal lands. Eligible households can also receive a one-time discount of up to $100 to purchase a laptop, desktop computer, or tablet from participating providers if they contribute more than $10 and less than $50 toward the purchase price.
When Can I Sign Up for the Benefit?
As of May 12, 2021, eligible households will be able to enroll in the program to receive a monthly discount off the cost of broadband service from an approved provider. Eligible households can enroll through an approved provider or by visiting sort by GetEmergencyBroadband.org.
DigitalLearn – The Public Library Association's site, DigitalLearn.org, is an Institute of Museum and Library Services grant-funded project to create an online hub for digital literacy support and training. Included in DigitalLearn.org is a collection of self-guided classes starting with computer basics to moderate and advanced classes.
Mousercise – This interactive websites helps you get acclimated to using a mouse.
GCFLearnFree.org – Self-guided computer classes, including computer basics.
Teach Yourself Technology – Denver Public Library's list of helpful websites for learning computers.