Tech Appointments @ the Library
Keeping up with technology can be challenging. The West Custer County Library staff can help anyone: set up a new phone or tablet, assist with online shopping, get oriented on a Mac, and organize files in Windows. Appointments are also available for anyone interested in learning how to scan, copy, or fax. Please contact the library at 719-783-9138, or email info@westcusterlibrary.org to schedule a one-on-one 30 minute appointment. Please bring the device or laptop, passwords, and user names to the appointment.
---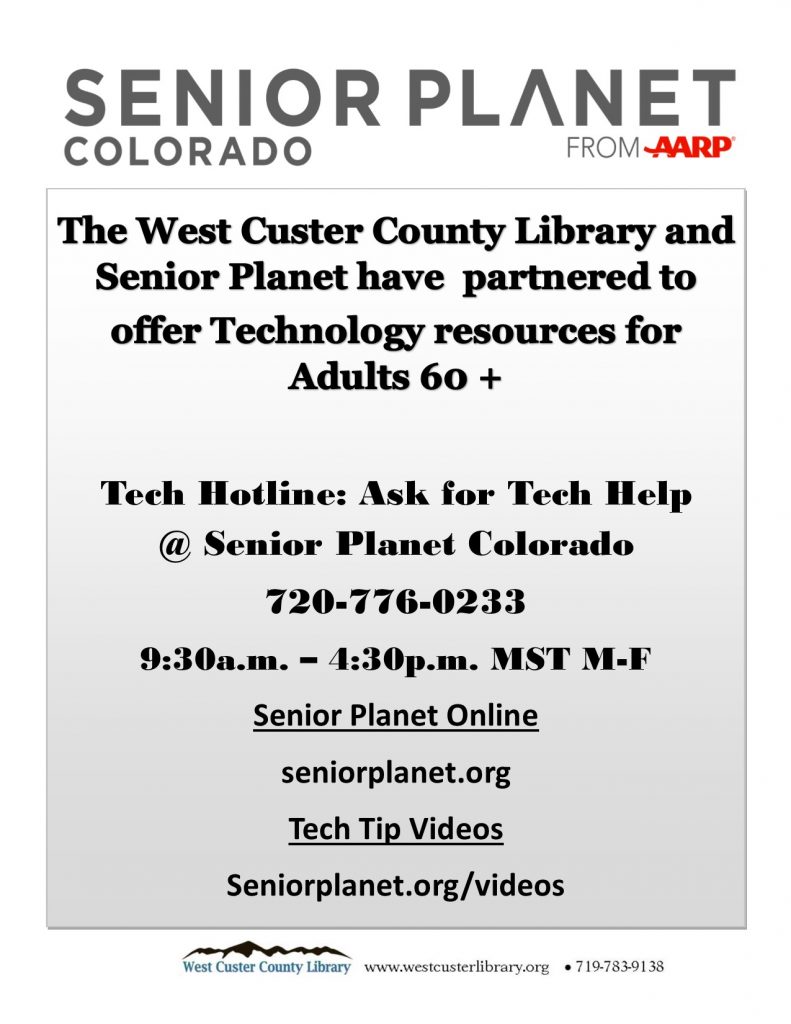 Senior Planet of Colorado Tech Help & Online Courses
Free technology help is just a phone call away for Custer County senior residents. Senior Planet of Colorado and the West Custer County Library have partnered to provide free technology assistance. Seniors who are sixty or older are eligible to call the Senior Planet Tech Hotline at (720) 776-0233, Monday through Friday, 9:30 to 4:30 MST.
---
Technology Guide for Seniors
The Library has put together a guidebook for the most commonly used technology and features, including how to set up and use a smartphone, basic computer navigation, and searches. Please ask the front desk if you would like to view or have a copy for reference.
The Affordable Connectivity Program
Does your child receive free or reduced price school breakfast or lunch? If so, your household may qualify for the Emergency Broadband Benefit. The Affordable Connectivity Program ("ACP") will provide qualifying households a discount of up to $30 from a participating provider's bill. Some participating providers are offering an additional benefit of up to a $100 discount off the purchase of computers or tablets if the consumer pays more than $10 but less than $50 towards the purchase of the device.
Households qualify for the ACP through participation in a number of public benefit programs or having a household income of up to 200% below the Federal poverty guidelines.
"[It is] totally clear that broadband is no longer a luxury, it's a necessity. The response to the Emergency Broadband Benefit Program, with over nine million households enrolled in less than eight months, proved what many of us knew to be true: there are simply too many people across the country struggling to pay for high-speed internet service," said Chairwoman Jessica Rosenworcel.
Affordable Connectivity Program RESOURCES: