Virtual Story Time
Hello Friends!

Until we can be together again, please enjoy the virtual story time options below.

Yours truly,

Mrs. Angela
Screen Actors Guild Storytimes:  https://www.storylineonline.net/
Clavis Publishing Online Storytime: https://www.clavis-publishing.com/storytime
StoryTime at Awnie's House: https://www.youtube.com/channel/UCbqmj1hzxuAXsjk08k-KP6w
Storytime from Space: https://storytimefromspace.com/library/
CLEL's Storyblocks: https://www.storyblocks.org/
Check out the Free Resources During the Pandemic section on our website for additional content.
---
Want to learn more about your child's development and how you can help get them ready for school (and beyond)?

The video below tells about some great resources!
Interested in seeing more videos, geared to your child's age? Click this link for more:
There are many more videos available on the earlylearningco.org website.
---
Play to Learn
Play to Learn is a playgroup-style, monthly event for children ages 4 and under, and their parents/caregivers. Miss Angela provides different games and activities each month during the school year, specially designed for infants, toddlers & tykes. FREE!  No registration or RSVP required.
For more information, please call Angela at 719-783-9138 ext. 4 or email angela@westcusterlibrary.org.
---
Camp Happiness
Camp Happiness is a highly interactive program that teaches kids in K-4th grade through art, science experiments, books and games. Older and younger siblings are welcome to join in the fun as well. There is no sign up or commitment required for this once-a-month event and, like all our library events, it's completely free!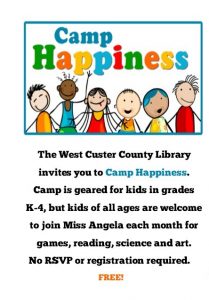 For more information, please call Angela at 719-783-9138 ext. 4 or email angela@westcusterlibrary.org.
---
Book Videos
Now you can access storybook videos at home with your child. The Sag Foundation has funded a site (link below) featuring actors and actresses reading various books. The professionally filmed videos even include storybook animations! From the website you can also download activity guides that go along with each story.
---
Songs and Rhymes Online
Help your infant or toddler get ready to read by singing and rhyming with them. The StoryBlocks website (link below) features videos with all kinds of different songs and movements that you can do at home with your child. The site is brought to you by Colorado Libraries for Early Literacy (CLEL).
---
Find Your New Favorite Book:
---
We have 'em. West Custer County Library offers FREE access to Encyclopedia Britannica, and the EBSCO research database.